minecraft
Minecraft is a highly appealing game that has captured the hearts of many gamers. Firstly, Minecraft provides players with an open-world sandbox environment, allowing them to explore and create to their heart's content. This freedom to build and explore has been a significant factor in its popularity. Moreover, Minecraft is a game that encourages creativity and problem-solving skills. The game's survival mode requires players to gather resources, build shelter, and defend themselves from monsters. The creative mode allows players to build anything they can imagine with unlimited resources. Furthermore, Minecraft is a social game that encourages players to work together to achieve their goals. Players can join forces to build large structures, explore dangerous territories, and fight bosses together. Overall, Minecraft has many attractive qualities, such as open-world gameplay, creative freedom, and social interaction. Let's explore how we can express these appeals through Scratch programming!
#01 
Paper Minecraft (Minecraft 2D)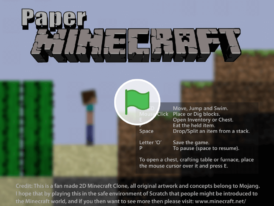 griffpatch's Scratch Game
Scratch version of the Minecraft. 
This is the legendary game made by griffpatch, a scratch version of the extremely popular game "Minecraft".
Player behavior
| | |
| --- | --- |
| Actions | Corresponding key/mouse |
| Walk/Jump | Arrow keys or WASD |
| Attack | Click enemy |
| Open/close inventory | E key |
| Open/close chest | Mouse over chest and E key |
| Select hot bar slot | Numeric keys from 1 to 9. (Hot bar slot is the bottom line of your inventory) |
| Eat food | Eat the selected item (if it is edible) |
| Dump things | Q key |
How to Craft
| | |
| --- | --- |
| Actions | Corresponding key/mouse |
| Open craft area | E key |
| Open the Crafting Table | Mouse over the Crafting table and press E |
| Placing blocks in the craft area | Drag blocks into the craft area and press space |
| How to complete craft | Drag the block that comes out to the right of the craft area into the inventory |
Other uses
| | |
| --- | --- |
| Actions | Corresponding key/mouse |
| Speak, use commands | T key |
| Pause Pause | P key |
| Save | O key |
| Sound on/off | M key |
| Writing on sign | N key |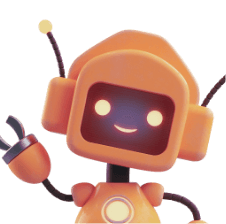 Coltroc's Scratch Game
A game in which you use a pickaxe to break down blocks and dig more and more holes, just like Minecraft. Miner Cat. (Miner means miner.)
The blocks you dig can be cashed in to save money, which can be exchanged for items such as pickaxes and colas.
The amount of money redeemed depends on the type of block.
You will lose HP when you get hit by lava on the way, and when your HP reaches zero, the blocks you have will be reduced to zero.
Expand your cave, strengthen your items, and aim for lower levels!
How to use
Movement
Corresponding key
Move cat
Left and right arrow keys (←, →)
Up arrow key (↑) or spacebar
Digging
Click the block
How to use Series 3 and beyond
</table >
| | |
| --- | --- |
| Movement | Corresponding key |
| Select item | Number key |
How to use after series 4
| | |
| --- | --- |
| Movement | Corresponding key |
| Open inventory | E key |
| Dump item Discard | Q key |
| Pause | P key |
List of series
#03 
Online Paper Minecraft for Everyone
匿名 としてプレイ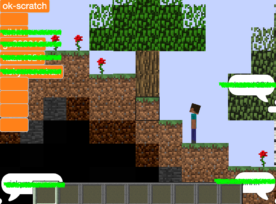 pocopocojohn's Scratch Game
This online paper minecraft is available in Japanese and English.
Since various people are working in real time, you can enjoy Scratch as if you were playing with strangers on a Minecraft server.
It would be sad if you destroy buildings or other structures created by unknown scratchers, so you will enjoy it if you focus on creation and not destruction.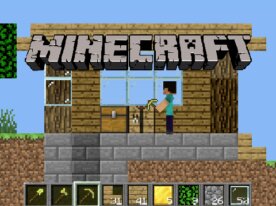 DarkLava's Scratch Game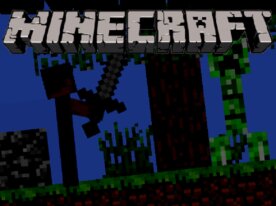 THE_MOST's Scratch Game
"No way, it's totally impossible."
"Wha? I breezed right through it!"
This game called Mini Minecraft has gotten mixed reviews. While a good number of people claim it's "super hard", others brag about finishing it easily. There's no save function, so you always start from scratch. But try finding your way to the goal and figuring out the path. I'm leaving you with no hints!
#07 
Miner Cat 3 - the return of the cat
#08 
Miner Cat 4 (Scratch version)
#09 
Paper Minecraft Updated [Textures]
#10 
Minecraft Battle VS Wither
#11 
Breaking the Limits of Scratch Online
匿名 としてプレイ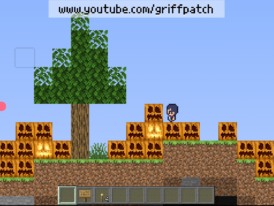 griffpatch's Scratch Game
Man, this feels like something godly. Like, what else can you do besides sing? This game on Scratch introduces techniques that totally change the usual expectations for online Scratch games. Just looking at those techniques makes my eyes pop, and the fact that it's fun to play too? This thing allows for a massive multiplayer experience, living up to the MMO name.
You know, with Scratch online, we usually use cloud variables, but there's this limitation where you can only use up to 10 per project. So the conventional online games tend to have around 10 players max. But, like, there are about 60 players connected at once here? How the heck did he pull that off?
paper minecraft mod
The 15 most popular paper minecraft mod games in the Scratch community.
#01 
Customized Paper Minecraft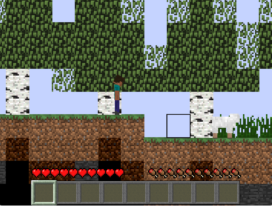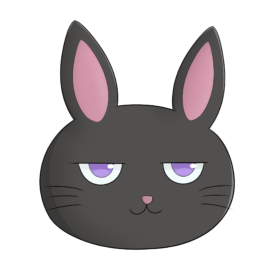 Parnapple's Scratch Game
This is a gutsy massive remix of Paper Minecraft. While the original project is 3.9MB, this one is around 23MB. (Mostly the music files are heavy)
And if you look inside, the heavy files from the original paper minecraft have been deleted once, optimized, and then added. Nice remix isn't it? 
I bet that Parnapple loves Paper Minecraft so much that he added tons of new items to the original.
For example, lapis lazuli ore has been added, more food items has been added, and emeralds have been added to the items that Enderman drops.
What surprised me the most was the addition of biomes!
When I think about how much time and effort went into making this remix, I really appreciate Parnapple's work from the bottom of my heart.
Thank you, Parnapple. You're as awesome as griffpatch.
#02 
Mod with TNT cannon implemented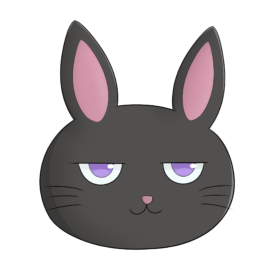 Oldcoinmania's Scratch Game
Now we have the lucky block!
It can be made with 8 gold ingots and a chest.
I tried it right away and…Bang! Oh my goodness! The lucky block was exploded!
Amazing!
Try the lucky block, you'll like it.
The author has also published other remix works that implement cheat weapons, armor, and coal.
#04 
Mod with various additions such as biome (English)

poliakoff's Scratch Game
This is the mod version that has been remixed to add biome, shipwrecks, etc.
Book shelf
Dungeon (with treasure chest)
Western house in the forest
Pyramid
Jungle biome
Sea biome
Wreck
This is an excellent mixed work that adds
etc. I have a feeling it will still grow in popularity.
#05 
Mod with end fortifications implemented (English)

poliakoff's Scratch Game
This mod < implements something like a end fortress Although it is not exactly an end fortress, we call it an end fortress for convenience.
In the end fortress, instead of being swarming with enemies, diamond blocks and gold blocks can be found, and there are many bonuses.
There's some dungeon-exploring fun, like when you approach a place thinking, "Oh, I'm lucky there's a cake there," only to have a pit trap activate and drop you into the water where zombies are waiting for you.
This mod does not have an end portal, but it is a challenging mod to conquer.
By the way, the end fortress can be found by digging the ground and going all the way down.
However, if you are digging directly down, you will fall a considerable distance, so we recommend that you dig in a staircase fashion to find it.
By the way, the title "Stronghold" means fortress or stronghold.
The title "Stronghold" means fortress or stronghold.
#06 
Ultra light paper minecraft
#07 
Introducing an Impressive Minecraft Project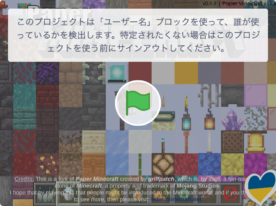 highpandapanda1's Scratch Game
I would like to introduce the Minecraft project that was kindly shared with me. Thank you to the person who introduced it. In the Scratch version, a gray question mark might appear on the screen. In such cases, please try the TurboWarp version. This is a super mod that has implemented enchantments, the End, and the Nether.
To reach the End, you can follow these steps: In Creative mode, go to the "Miscellaneous" tab and select "Spawn Stronghold" to generate an End fortress. Then, hit the "End portal frame" with an "Ender Eye" in hand. A line will appear, and you can enter from below to reach the End. Thank you again to the person who introduced this project.
#08 
Mario Meets Minecraft: An Epic Remix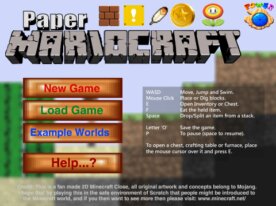 Penguin_King's Scratch Game
So, this game is like a mix of Minecraft and Mario, and I cracked up seeing the graphics so Mario-esque. Totally in a good way. This remix is genius. There's a message like "Stop the Goombas and Bowser!" and just that makes me super excited. Even though it's kinda old, it looks like they've added beds, sheep, cows, tools, and more in an update. Give it a try!
#09 
Cheat-rich Minecraft Updated
#10 
Leveling Up Paper Minecraft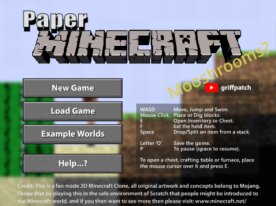 Parnapple's Scratch Game
I've got a couple of unique favorites from the list!
Magic Crystal: Crafted with 4 redstones, 4 iron ingots, and an emerald. You can use this to duplicate diamond tools and armor.
Pumpkin Pie: Whip this up by placing a pumpkin, sugar, and egg in a straight line on the top row.
There's also a bunch of other cool stuff added!
Paper
Book
Bookshelf
Nether Brick
Apple Pie
Leather Armor
Spider Web
Mushroom.
#11 
Minecraft Modern Mod!!
#12 
numanuma3's Scratch Game
#13 
jacker114's Scratch Game
minecraft 3d
The 9 most popular minecraft 3d games in the Scratch community.
#01 
Realistic 3D Minecraft

Finlay_Cool's Scratch Game
I wrote at the beginning that Scratch's Micra is 2D. That was a lie (snip)
Various people have made realistic 3D Micras, including Finally_Cool, who is famous for his Mario Kart He is also famous for his scratch work.
Both Maricar and Minecraft are based on a 3D programming technique called "raycasting," so I see why both are high quality. You can experience a high level of proficiency in the skill.
You don't need to understand English to enjoy it.
This is not a game that you will play continuously as a micro game. But it is a work that satisfies the desire of "I want to enjoy Micra in a realistic and scratchy way! It is a work that satisfies the desire to "enjoy Micra in a realistic and scratchy way!
Wow, scratch microscopes can be sculpted to this level!
We hope you will experience the impression of how well Scratch's Micra can be sculpted.
Supplementation
Some of the fiercest people have created saveable versions using the code from this project. I'll post that one too!
The save method is a bit complicated. Once you start the game, press the P key and choose "Return to Home Screen" once. Then click on "Feathers and Books" and then look inside the project to download the file.
Hints on how to create
The author gave us the project he referred to for the terrain generation process. Check it out if you are interested in creating a realistic microcosm.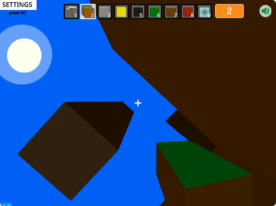 WO997's Scratch Game
This is another three-dimensional Minecraft. The canine is with you from the beginning and it's soothing.
The canine is a shadow-like being, but it can also change color.
It will soon turn into night, but if you press the button "Setting" in the upper left corner (or press the K key), there is a sun icon that you can click to make it daytime to make it easier to play.
I also feel you will enjoy it more if you change the way you turn around from keyboard to mouse.
I tried to collect soil and build it, but I was able to build it quite authentically.
How to use
| | |
| --- | --- |
| Action | Corresponding key |
| Move | WASD key |
| Jump | Spacebar |
| Turn around | Arrow keys (can be changed to mouse) |
| Select item for slot | Number keys 1-9 |
| Mine | Select pickaxe then M key |
| Build | Select non-pickaxe then M key |
What you can set up
You can choose whether the blocks are wired
You can choose how many blocks you see
You can choose whether to turn around with the mouse or the keyboard
You can choose the color of the canine
You can choose whether you want water
#03 
One of the best 3D Minecraft games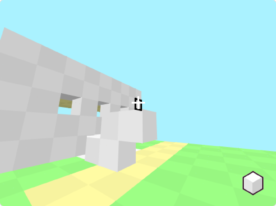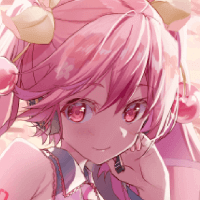 nakakouTV's Scratch Game
It's rare to see such high-level 3D work, let alone in a Minecraft project. The creator is nakakouTV who is famous for his Mochi Mochi Slime games. No wonder his pen usage is so good.
Press Z key to undo blocks you placed or broke one step before.
#04 
3D Voxel-Style Minecraft Game
#05 
kazu-014916's Scratch Game
#06 
YSFLIGHT88's Scratch Game
#07 
BamBozzle's Scratch Game
#08 
oh261401's Scratch Game
else minecraft
The 11 most popular else minecraft games in the Scratch community.
#01 
A Super Mario game with Minecraft-action elements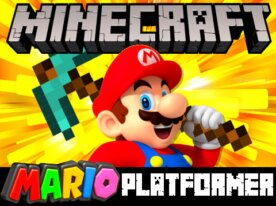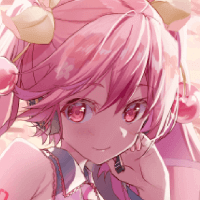 atomicmagicnumber's Scratch Game
In this game. Minecraft-action like digging and crafting has been added to the
Super Mario platform. Once you get a pickaxe, you dig, collect material, craft tools and weapons, and use them. This flow is easy to understand, and if you can do the jump action, it's not that difficult to clear the game. The stages are not just action-centered, but they also require a bit of thinking to clear which makes it all the more fun. This game has Minecraft elements added in just the right portion, and it's a good one to have a little fun with. I'm looking forward to seeing various stages in the future.
#02 
Slash the attacking zombies with your sword!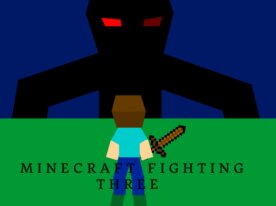 Kreeperwide's Scratch Game
This is an excellent game as a collaboration work of Mycla.
I wish it could be made into an app on its own.
The graphics are simple, yet sophisticated and GOOD.
Zombies (at first I thought they were dirt blocks) come at you from all directions, so you have to click and poke them with your sword to defeat them.
As you do so, more and more counters will appear. Your equipment gets stronger along with it.
Keep trying for the diamonds!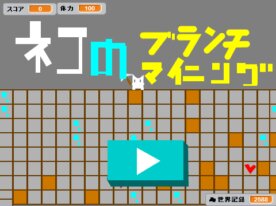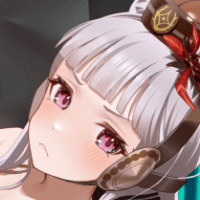 remoneko's Scratch Game
This looks easy at first glance but is profound. You have to think about how to raise points without reducing physical strength. The basic controls are ↑↓←→ only, and you can dig with ↓.
Block
Sand…… physical strength -1: score +1
Stone…… physical strength -2: score +2
Diamond…… physical strength -3: score +3
Heart…… complete strength recovery: score +4
A bug that rapidly reduces physical strength are at the edges when you dig.
#04 
This is novel! Minecraft avoidance game!
#05 
Gleamur's Scratch Game
#06 
AchillesX's Scratch Game
#07 
MinecraftBuddy245's Scratch Game
#08 
CapitalGames's Scratch Game
#09 
17limo's Scratch Game
#10 
Minecraft fighter ver1.0
how to make minecraft
The 2 most popular how to make minecraft games in the Scratch community.
#01 
How to add new enemies, animals, and other mobs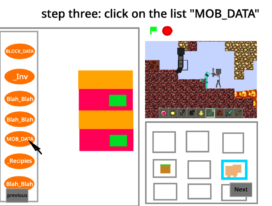 cowmanjl's Scratch Game
He explains how to add new mobs to your paper minecraft!
I would love to add Endora or something like that.
Details
Because the whole story is in English, we have included a light Japanese translation.
Details
Select a sprite called Mob
Draw a new mob costume to add

Costume facing forward
Costume while standing still
Costume while moving ( Any number)
Costume while damaging (any number)

Open the list "MOB_DATA"
Add one empty line to the list
Enter data for a new mob

In the next line enter the new mob's ID

Enter the name of the new mob on the next line
Add other data as well (*)
*About MOB_DATA
The total data for the new mob is as follows.
1) Mob ID……ID (must be a unique value not used elsewhere, adding one by one is good)
2) Mob Name …… Name
3) Size %…… size, e.g. 100%
4) Half Height…… height Half, e.g. 1.3
5) Y Offset…… whether flying or walking, high value means flying, low means ground
6) Root Costume…… Number of the first costume
7) Walk Cycle Length……Number of movement animations
8) Animate Speed…… Animation speed
9) Health…… stamina
10) Food…… can be eaten, 0 for not eaten, 1 for eaten
11) Allegiance (0 – Tamed, 1 Passive, 2 Aggresive)……0 for friendly, 1 for indifferent, 2 for hostile
12) Costume Set Mode (0 – Full walk cycle + single hurt, 1 – Half walk + full hurt)……1 to be set
#02 
tomo119's Scratch Game
story of minecraft
The 24 most popular story of minecraft games in the Scratch community.
#01 
Hilarious Minecraft Animation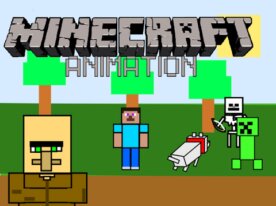 LVsilvers's Scratch Game
This animation created by an international creator is amazing as it conveys humor without any dialogue. Initially brief, it grows more complex with each episode. If you like Minecraft, you'll find many episodes amusing. Check it out!
#02 
A Fascinating Animated World Similar to Minecraft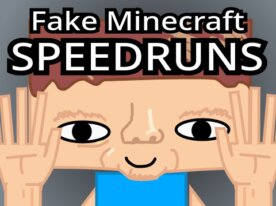 All_Things_TV's Scratch Game
I found it very entertaining. It was an animation with a world similar to Minecraft. Even without understanding Japanese, you can tell what's happening just by watching the visuals. The story was well-structured, and before I knew it, I had watched it to the end. The final scene was oddly realistic, and I was impressed by how well the eyes followed the movements of the mouse.
#03 
A Minecraft Original Animation to Watch, Not Play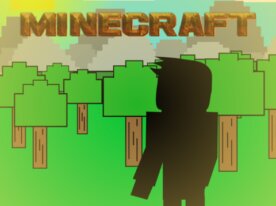 GoldenEagleStudios's Scratch Game
This game is not about controlling characters but rather watching an original Minecraft animation. The story begins with a protagonist in the world of Minecraft. Personally, I found the pigs surrounding the main character to be incredibly cute, and while the animation's content was interesting, the pigs left a lasting impression. The dialogue is in English, so those who don't understand English may not know what the characters are saying. However, by watching the animation, you can get a general idea of what's happening, and even though I don't understand English, I was able to grasp the content and enjoy it. Please give it a watch at least once.
#04 
Popular Minecraft Game Turned into an Anime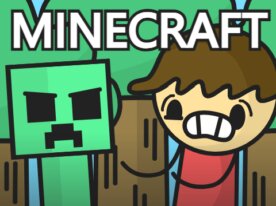 ShowPasswrd's Scratch Game
The story begins with a sudden reincarnation-like situation in the world of the popular game Minecraft. All the dialogues are in English, but even if you don't understand the language, you can get a rough idea of what's going on by watching the on-screen action. It might be a good listening practice for English learners, especially middle school students and above. The ending does feel a bit forced, though.
#05 
Sterlon's Scratch Game
#06 
hi95701's Scratch Game
#07 
fatkidplayer's Scratch Game
#08 
Minecraft Hunger Games!
#09 
ma-tare's Scratch Game
#10 
minecraft nether ender world #animations part 2
#11 
minecraft raid #animations
#12 
World axolotls minecraft #animations #all
#13 
End City minecraft #animations #all
#14 
LVsilvers's Scratch Game
#15 
LVsilvers's Scratch Game
minecraft gameplay
The 16 most popular minecraft gameplay games in the Scratch community.
#01 
naokimann's Scratch Game
#02 
naokimann's Scratch Game
#03 
naokimann's Scratch Game
#04 
naokimann's Scratch Game
#05 
naokimann's Scratch Game
#06 
naokimann's Scratch Game
#07 
naokimann's Scratch Game
#08 
naokimann's Scratch Game
#09 
naokimann's Scratch Game
#10 
naokimann's Scratch Game
#11 
【短編マイクラ実況】落下しても大丈夫な方法5選! 【Minecraft】5 ways to fall and be safe!
#12 
​​What Happens When You Detonate 2,000 TNT Bombs?
minecraft walkthrough
The 27 most popular minecraft walkthrough games in the Scratch community.
#01 
adscasddba's Scratch Game
#02 
takehigo's Scratch Game