minecraft platformer
The 24 most popular minecraft platformer games in the Scratch community.

More minecraft platformer projects are coming soon!
We have plan to add 6 more Scratch projects of the minecraft platformer.
#01 
Minecraft and Mario come together

Dandibar's Scratch Game
It's Mario, but it's Minecraft! Steve, the male skin of Minecraft, is now Mario.
It's a great remix of Mario and Minecraft, with mushrooms being potions and pipes being chests.
You don't have to know anything about Minecraft to enjoy it, so give it a try.
If you know Microcosmos, you'll say, "Oh!" The result is a very good one.
#02 
Found the hidden stage? Minecrafts athletic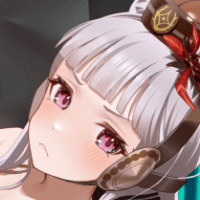 whitekeita's Scratch Game
The best! It's an athletic game, or rather a side-scrolling action game. As Minecraft would put it, it's simply athletic. I am sure many of you will say, "This is what I've been looking for!"
What's more, it's smartphone compatible!
It's not purely Minecraft, but I recommend it to people that wants to feel the Minecraft world from different angles!
For some reason, the main character is slime! His expressionless face is irresistibly cute. For a moment, I thought he looked somewhat like Creeper.
Music selection is also great.
Rumor has it that there are hidden stages. Good luck finding them!
#03 
RacingAce's Scratch Game
#04 
Minecraft Adventure Course - In English, but a high quality game that I want everyone to try -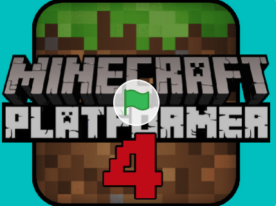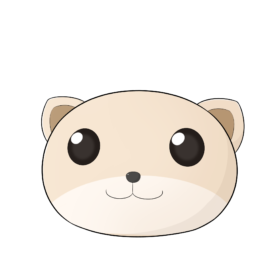 atomicmagicnumber's Scratch Game
This is amazing work. You can add an original story to the Minecraft adventure course and enjoy it like a story. You can also craft things in this action game. The typical Minecraft features such as gathering four trees to make a crafting table, making a fishing rod to catch fish and so on, has been well-combined and made into an action game. It seems to be a long-term work for the creator, and this is the fourth title. The game is enjoyable even if you start from this title so you might want to try the other games if you like this game. To control, just use the arrow keys, space bar, and click on finished crafts. The biggest challenge is the English language. It's a story, so there are a lot of texts and they are all in English. In many parts, you can progress without reading anything, so it would be a shame not to play just because it's in English. It's that good. You could use Google Translate while playing. Other stories Minecraft Platformer 1 Minecraft Platformer 2 Minecraft Platformer 3
#05 
-RISEN-'s Scratch Game
#06 
Super Mario-ish game with Steve from Minecraft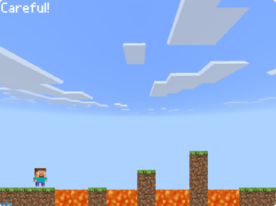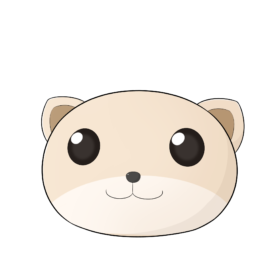 UltraCoolGames's Scratch Game
Control Steve, and use jumps and wall-climbing techniques effectively to get him through. There are only four types of actions; move, jump, climb walls, and jump walls. Think about how to move through narrow footholds and high walls as you take action. If you fail many times, they let you skip a stage, so whatever happens you'll be able to reach the final stage. Even if you fail a stage, you can restart immediately, so it's not that stressful to play.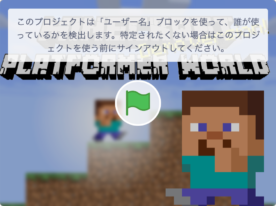 -Jikky-'s Scratch Game
It is one of the smoothest games among the many microplatformers.
Steve's parkour is implemented in a small way, and it's nice to crunch through.
It is implemented in a sliding horizontal scrolling style.
Steve's costume is so cute. I'd like to get the Alex version too.
#08 
UltraCoolGames's Scratch Game
#09 
Steves Action-Packed Adventure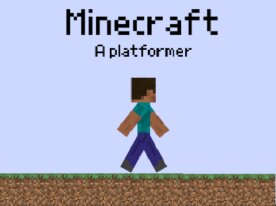 JWhandle's Scratch Game
Steve quickly progresses through an action game, where he has to jump over lava and cacti to advance. The first few slides are simple, serving as a tutorial. However, the difficulty increases when you have to jump over three cacti in a row. You might want to shout, "Come on, Steve! Your life is on the line, can't you jump a little higher?!" The creator did an excellent job setting the perfect height for the jumps. If Steve could jump higher, the game would be too easy, and if the jumps were too low, it wouldn't be playable. It's a truly ingenious setting.
#10 
Journey Home in a Mancraft-Style Game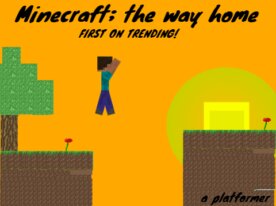 DOODDOODDOOD's Scratch Game
In this game, you control a character inspired by Mancraft to make your way back home. You will continuously move toward the right side of the screen. At certain points, there are gaps that you must jump across at the right timing. Initially, I had difficulty finding the correct timing and couldn't perform the jumps well. However, after numerous attempts, I began to understand when to jump, allowing me to progress further in the game. Good luck and make it home safely!
#11 
Minecraft | The Overworld | Scrolling Platformer
#12 
techMMan2's Scratch Game
#13 
techMMan2's Scratch Game
#14 
atomicmagicnumber's Scratch Game
#15 
atomicmagicnumber's Scratch Game
#16 
KillerByte's Scratch Game
#17 
TrentonTNT's Scratch Game
#18 
holybird3's Scratch Game
#19 
Minecraft Athletics Episode 1

atomicmagicnumber's Scratch Game
This high-quality Minecraft athletics game is a must-try! It's an amazing creation that adds an original story to Minecraft parkour, making it feel like a narrative adventure. It's also a crafting action game where you can gather wood to make a crafting table, or fish to restore health – all integrated into the action gameplay. This is the fourth installment in the series, but you can start here and enjoy it. Try this one first, and if you like it, check out the other episodes. Controls are simple: arrow keys, space, and clicking crafted items.
#20 
The Calming Nature of a Challenging Game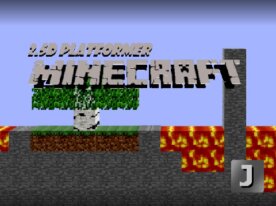 JWN91248's Scratch Game
One of the first things I noticed about this game was that it can be frustrating when things don't go well. However, there were no noisy sound effects, and calming music played in the background, allowing me to make progress while staying relaxed. The controls were simple, so I could quickly move forward. To overcome obstacles like magma and pits, I had to jump, but with certain combinations of arrow keys, I could make larger jumps. This made me think about how big of a jump was necessary to clear each pit. Since there was no time limit, I could carefully think through each step and move forward at my own pace.
#21 
doidoisinbun's Scratch Game
#22 
doidoisinbun's Scratch Game
#23 
doidoisinbun's Scratch Game