clicker game
The charm of clicker games lies in the combination of simple controls and the element of growth. Players earn points with simple clicks and use them to promote growth within the game. The process of growth becomes the goal of the game, leading to high replay value. To express these charms using Scratch, first create a system where points are earned through clicking. Then, add upgrades and items that can be purchased with the points to express the player's growth. Graphics, music, and sound effects can also be utilized to create a more engaging clicker game. In summary, by using Scratch to create a clicker game, one can express the charms of the game. Let's explore how to do so together!

More clicker game projects are coming soon!
We have plan to add 1 more Scratch projects of the clicker game.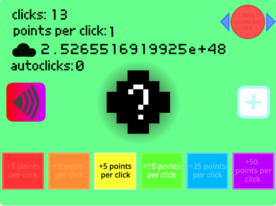 imthebesttt's Scratch Game
You can create the fancy clicker games with this template project.
This provides the functions of clicking and  earning and shopping. These are the minimum utilities for the clicker, aren't they? Just remixing, you can easily build a simple clicker. You can focus on your unique and cool functions if you want.
#02 
❀ Interactive Pond ❀ - Minigames
#03 
Placid Pigs Balloon Pump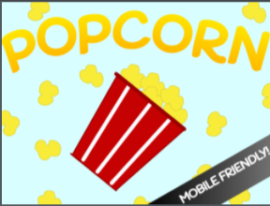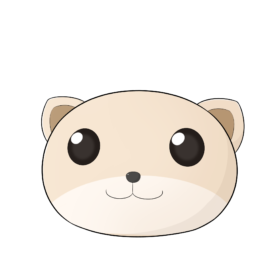 Patternsplash's Scratch Game
Click on the popcorn kernels to make popcorn!
If you mistakenly click on anything other than grains or burnt popcorn, the game is over.
Burnt popcorn is easy to avoid, but it is easy to get a game over when you clicked on a grain thinking you were pushing it…
A cute concept game, surely made for quite the popcorn lover,
please give it a try. You could make all kinds of remixes with this mechanism.
#06 
Clicker game producing cats all over the place
#07 
Clicker game 2 to produce cats all over the place

anmonaitosan's Scratch Game
It's a sequel!
The president built an ultra-high-performance robot-cat manufacturing machine that allows him to make robot cats at the push of a button. But now he just sleeps all the time and leaves it to others.
Let's all push the button and produce Robocats so that the president's company doesn't go out of business! Of course, you will get paid! Press the "Send to Company" button to send cats to the company, and the Robot Cat will accumulate more and more cats and will be sold someday. You can even use the money from your paycheck to hire a gobo or a nano! Apparently, gobos are smarter than nannas. But the company is unstable because they have more or less manpower. And with bonuses and losses, it would be a waste to leave them alone! And you shouldn't leave them alone because bikers can come riding in! But if you hire gobos and nano's, you can keep the company from going into the red! Come on, let's all save this company!
#08 
A Clicker Game to Create a World?This game might not fit the typical definition, but its a creation where you use a clicker feature to build a world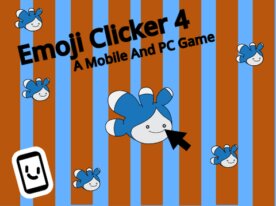 sparklinatechs's Scratch Game
When you click the central character, smaller characters fall from above. The number of clicks is counted in the top left corner, and as the count increases, you can shop for items. You can change the characters (emojis?) or the number of characters that fall at once, but the most powerful item is likely the AUTO, which can be purchased after 150 clicks. With AUTO enabled, the click count increases automatically, so instead of clicking to increase the count, you click to drop characters.
I think it's a well-crafted piece with attention to detail, such as the sound effect when you click, the central character slightly increasing in size, and the semi-transparent appearance of the falling characters. After playing for a while, the background music ends, leaving you with a sense of being left behind, which is quite poignant.
#23 
Old Town Road Clicker New