Terraria
The popularity of Terraria lies in its rich content and high degree of freedom in gameplay. Terraria is an action game in which players create their own characters, explore the world, fight enemies, and collect items. The appeal of Terraria lies in the fact that players can freely explore the world with their own objectives in mind. Players can collect items, craft, and fight enemies while exploring various terrains and biomes. The direction and purpose of the gameplay can vary greatly depending on the choices of the player, allowing for infinite replayability. Terraria is also popular because of its rich content. The game features various biomes, dungeons, and bosses, giving players plenty of content to explore and conquer. The crafting system is also very extensive, requiring players to collect a variety of materials to create items. This wealth of content keeps players engaged and motivated to keep playing. Additionally, Terraria allows for multiplayer play for up to four players. This feature allows players to team up with friends and work together to complete quests, explore the world, and defeat enemies. This social aspect of the game also adds to its popularity. In summary, the high degree of freedom, rich content, and multiplayer functionality make Terraria a beloved game among players.
#01 
Scratcharia - Scratch Terraria masterpiece
匿名 としてプレイ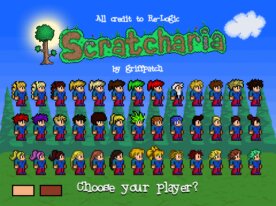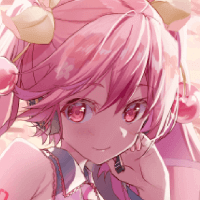 griffpatch's Scratch Game
The Scratch version of Terraria is Scratcharia, created by Griffpatch. Griffpatch is also the creator of Paper Minecraft. He is the world's No.1 Scratcher whose tutorial videos are posted on Scratch Coach. This is a game that he created. I am at a loss for words. I can only say, awesome. It's so awesome I can only review it like, "Please, just try it. It's absolutely amazing"!
else terraria
The 4 most popular else terraria games in the Scratch community.
#01 
Terraria Platformer 2
#02 
Terraria Water Experiment v0.1
#04 
A Game with Various Stages and Cool Features New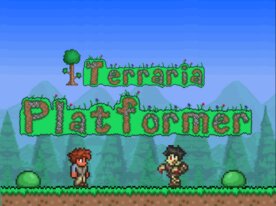 cs2889410's Scratch Game
There are several stages in this game. You can skip stages you can't clear, so it's less likely for you to get stuck midway. The music and the main character are both cool! Also, as you progress, you'll see English prompts like "Jump here!" which makes it easy to navigate. There are no weapons to defeat enemies, but the simple controls for dodging enemies with jumps make it easy to grasp the technique quickly.