monster strike
Monster Strike is a popular smartphone RPG that offers action-packed battles featuring a variety of monsters. Firstly, Monster Strike features a wide range of monsters with unique abilities that can be combined into teams for battles against enemies. Players must strategize and make use of the monsters' skills and attributes to achieve victory. Moreover, Monster Strike includes various quests and stories that players can engage in while improving their skills. The game constantly updates with new events and collaborations, providing fresh and exciting content for players. Additionally, Monster Strike offers multiplayer mode where players can collaborate with friends or other players to battle against monsters together. Overall, Monster Strike is an appealing smartphone RPG that offers action-packed battles featuring a variety of monsters. Let's explore how we can express these appeals through Scratch programming!
#01 
Monster Strike Lite Updated

akamaru_prg's Scratch Game
Oh man, this is fun! This is monstrous (of course it is?) Click START 《Start》. Click on the quest. Many stages will appear, so click on Stage 1 first. A helper selection screen will appear, so choose someone. A green button will appear saying "Launch", click on it. Now the battle begins. Now you can enjoy the Monster Strike-like experience of pulling and smashing.
#02 
Challenging Game with Unique Character Abilities

5884's Scratch Game
This game is simple, similar to Monster Strike, where you move characters and use their abilities to defeat enemies. However, it has a higher difficulty level than the actual Monster Strike game. When attacking by colliding with an enemy, your character's HP decreases, so you must use their abilities to attack instead. Due to the high difficulty, there is a sense of accomplishment when you win. It's highly recommended for those who enjoy a challenge. (There is a bug) When it's Gobo's (the yellow character) turn, an arrow appears from Tera (the blue character). When you release the arrow, Gobo moves. The arrow should actually be coming from Gobo, not Tera.
#03 
A Cat-Fighting Game Full of Action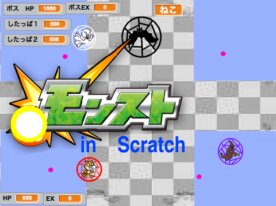 ichig's Scratch Game
This game is all about attacking. You control a cat, and there are turns for both you and your opponent. When it's your turn, you choose the opponent you want to attack, and your character moves towards them. The battle continues until the enemy's HP reaches zero. If your HP reaches zero, it's game over. The movement is similar to playing with a tiddlywink. I believe people who have played or enjoyed Monster Strike will be particularly addicted to this game. I've never played Monster Strike, but I love fighting games, so I was completely engrossed in defeating the boss.
#04 
korisuke's Scratch Game
how to make monster strike
The 1 most popular how to make monster strike games in the Scratch community.
#01 
Drag and Drop the Cat Updated

logic_lab's Scratch Game
This game is available on Scratch and features adorable characters. Players drag and drop a cat on the screen to reach a destination, navigating various obstacles. The game is enhanced with charming background music and sound effects.