donkey kong
Donkey Kong is a series of arcade games developed by Nintendo. Players control the main character Mario and other characters to defeat Donkey Kong and his minions and complete levels. The appeal of Donkey Kong includes the following elements. First, one of the most appealing features of Donkey Kong's stages is the variety of tricks and obstacles that appear. Players will use a variety of actions, such as jumping with pulleys and moving ropes, to advance through the stages. A number of enemy characters also appear and obstruct the player. The Donkey Kong characters also feature unique and attractive designs. The main characters, Mario and Luigi, as well as Donkey Kong, are one of the reasons why the game is loved by many fans. Furthermore, Donkey Kong's music has a distinctive rhythm and melody that draws players in. The characters' sound effects are also unique and leave a strong impression on players. To express Donkey Kong in Scratch, it is first necessary to understand the basic elements of the game and acquire the programming skills to reproduce them. In particular, it is important to reproduce unique elements such as stage tricks and character animation. By looking at the works of other scratchers, you will be able to get your own ideas and methods of expression. Translated with www.DeepL.com/Translator (free version)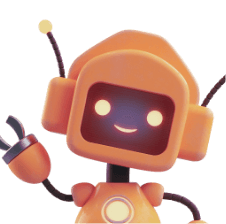 More donkey kong projects are coming soon!
We have plan to add 1 more Scratch projects of the donkey kong.
#01 
Nostalgic Donkey Kong Game Revival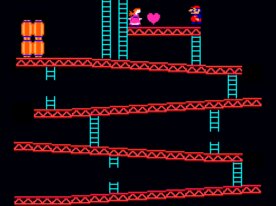 wariobro's Scratch Game
This is a recreation of the nostalgic Donkey Kong game. Donkey Kong is at the top of the screen, dropping barrels that you must dodge while rescuing the captured Princess Peach. The barrels roll surprisingly fast, so be careful with Mario's jump timing. The game is enjoyable for both children and adults, and the controls are simple, allowing you to start playing right away. Give it a try!
#02 
Rhythm Game with Arrow Keys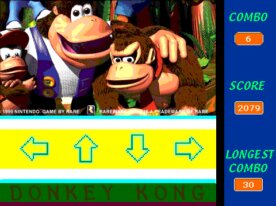 B-Reyn428's Scratch Game
As soon as the game starts, music begins to play, and you find yourself in a rhythm game. Arrows fall from the top of the screen, and you need to press the corresponding arrow keys on your computer when they reach the white arrow marks at the bottom. This process repeats throughout the game. The music and arrows have a good tempo, so it's crucial to press the arrow keys in time with the music. The game lasts for a few minutes, making it perfect for those looking to improve their short-term focus and concentration. Give this game a try!