mario kart
Mario Kart is an incredibly appealing racing game that combines competition with fun. Firstly, Mario Kart features a wide variety of characters to choose from, each with their own unique abilities and vehicles. The game also includes items and traps that players can use strategically to gain an advantage. Moreover, Mario Kart is not just a simple racing game. It includes special courses, trick jumps, and shortcuts that add a layer of challenge and excitement to the gameplay. Furthermore, Mario Kart can be played in multiplayer mode, allowing friends and family to compete against each other for even more fun. Overall, Mario Kart is a racing game that offers both competition and enjoyment. Let's explore how we can express these appeals through Scratch programming!
#01 
A Game Strikingly Similar to the Original Mario Kart

Finlay_Cool's Scratch Game
A game that closely resembles the original Mario Kart has been created. The controls are unique, so please refer to this memo for guidance. First, press the green flag, followed by the "Z" key. This will take you to the car selection screen, where you can use the arrow keys to choose your car, then press the "Z" key again. Once the race starts, use the "Z" key to move forward and the "X" key to reverse. There are no brakes or jumps in this game.
You might be tempted to remix the game, but the inner workings are quite complex. The course is drawn using a pen tool. This is a common method for creating 3D games in Scratch, known as "raycasting." Raycasting can be complicated to learn, so it's a good idea to study it in a separate project. This website also plans to cover raycasting techniques in the future. For now, enjoy playing this Mario Kart-inspired game!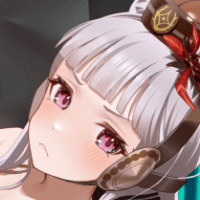 Judpomme's Scratch Game
It's Mario Kart with multiplayer matches! But if you are new to scratch, you may only be able to play in 1-player mode. Check out your profile. The moves are very easy; just use the WASD keys! The item blocks are also made to look like a MK. Get mushrooms, stars, bananas, and more with the Gacha! Use the spacebar to use it. It's multiplayer, but it's not the type that can be done with a single keyboard, so you need two computers. This means you can keep in touch with friends who aren't with you right now and play with them, so give it a try. Even alone, you can play together if someone else is online. There is no AI, so if you are completely alone, you will only be able to practice.
#03 
Mario Kart with battle mode (still under development)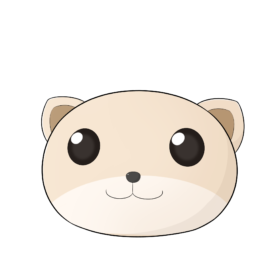 lisa_wolfgang's Scratch Game
This is still under development so some features have not yet been completed, but it's quite detailed and I'm looking forward to seeing more of this. Banana cups and other features have been put in, and you can have fun with many different courses. Currently, it's a one-on-one race against the AI, but they're making it so two-player racing is possible in the future. There's also a battle mode instead of a racing mode. The official Mario Kart has a battle where you pop balloons, and it looks like it'll be similar to that, so that's something to look forward to as well.
#04 
Unusual rules! 3D Mario Kart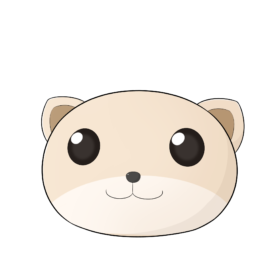 SirOdoth's Scratch Game
MK Scratch can be enjoyed in 1 vs. 3 (AI). It adopts special rules, and things like Piranha Plants and bananas suddenly fall off. Especially since many bananas have fallen, it slips quite a bit! The time changes quickly, such as 10 seconds are added if you catch a mushroom, lose 2 seconds if you step on a KopaPlants, and so on. You can also pick up and shoot the Koopa's shells. And AI is so strong. Can't keep up at all. It's a game that requires quite a bit of technique. Changing gears is necessary, and it's not automatic but manual operation.
#05 
MarioFan3629's Scratch Game
#06 
Beat the ghosts in a time trial!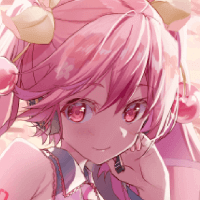 Lucario621's Scratch Game
A three lap race around the track with the ghosts! Your time depends on how well you drift. The basic controls are as follows: W key to accelerate, A/D key to turn, and spacebar to jump. To drift, accelerate and turn while jumping. Use this technique to beat the ghosts! They're pretty fast! Use the Z key to change your car type. But you can't change cars unless you're in the middle of a race, so they're pretty harsh about that (lol).
#08 
yossiy's Scratch Game
#09 
Play the Popular Game Mario Kart on Your Computer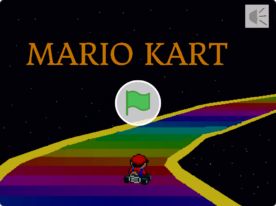 yossiy's Scratch Game
You can now play the popular game Mario Kart on your computer! With a variety of characters to choose from, you can pick your favorite and progress through the game. The recreated Mario Kart stages are truly impressive! I found the idea of changing the colorful horizontal bar-style graphics to represent the tracks interesting. While it's quite challenging to avoid falling, give it a try!
platformer like mario kart
The 15 most popular platformer like mario kart games in the Scratch community.
#01 
A Delightful Mario-like Experience

sgihyt781's Scratch Game
This time, the stage felt like being in the world of Mario, which was absolutely irresistible for a Mario fan like myself. As you progress, explanations appear on the screen, which I found very helpful and appreciated for those who are new to this series. The difficulty level of this stage isn't too high, making it especially recommended for those who are playing this game for the first time. I believe you can play at your own pace while checking the controls.
#02 
New Action Game Alert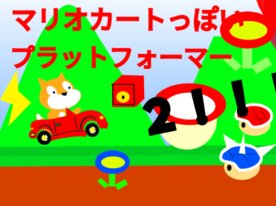 sgihyt781's Scratch Game
Hey everyone, I found this super fun action game that you totally need to check out! The game has a well-crafted intro and even added two new items. Controls are easy: move with the right and left keys, and jump with the up key. Touching mushrooms speeds you up, and touching fire or ice flowers changes your color. Watch out, though! Hitting a shell makes you start over, and blue shells are unbeatable. If you hit the up key during a honk, you can double-jump, and touching thunder shrinks you! By pressing the space or Z key, you get a special power that makes you immune to shells. Use these to beat the game! By the way, the BGM is provided by Maou Tamashii and sound effects are from Sound Effects Lab and Ichig. You can see the referenced works on the Scratch project page. Please support by hitting the heart and star! The creator has mentioned not to remix or spam the comments, so be mindful of that. Have fun!
#03 
Exciting Stages and Easy Controls: A Game for Beginners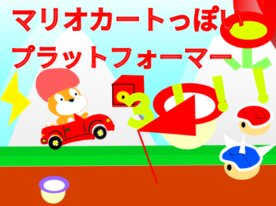 sgihyt781's Scratch Game
The more I progressed through the game, the more the stages changed and became enjoyable. The controls were simple, and I was able to start playing right away. I recommend this game to those who want to practice using computer keys or have never played computer games before. I believe you can learn the keys while having fun, and it may even help you experience the joy of using a computer. My favorite part in the game is the mushroom. Something special happens when you touch the mushroom. What is that something? Find out by playing the game yourself.
#04 
A Mario Kart-like Adventure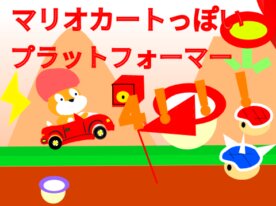 sgihyt781's Scratch Game
This game has a title that suggests a Mario Kart-like experience, but instead of racing elements, it feels more like a Super Mario game where you ride vehicles. You can speed up with red mushrooms and be sent back by poisonous blue mushrooms. However, you're only sent back to the same screen stage, so you can eventually break through by trying multiple times. There aren't many scenes where you need to time your jumps, so I managed to clear the game somewhat easily. The sound effects are quite entertaining, which made failing not feel too disappointing.
#05 
A Charming Stage with Cats, Hats, and Mushrooms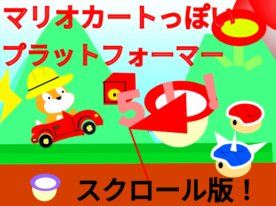 sgihyt781's Scratch Game
In this stage, the cats were wearing hats, which looked adorable. There were red mushrooms, of course poisonous ones, and even red shells. Thankfully, the red mushrooms would speed up, and the poisonous mushrooms would do this. There was a brief explanation about the red shells, so reading it while progressing through the stage allowed for a smooth and mistake-free experience. This stage also had some thrilling moments, which made it even more enjoyable.
#06 
Embark on a grand adventure in a colorful world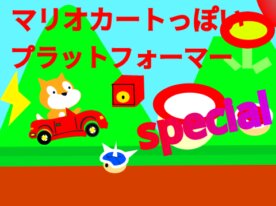 sgihyt781's Scratch Game
Yo peeps! Check out this colorful action game. Play it on the creator's site! Three stages: "Water", "Fire", "Nature". Not too tough, super fun. Added jumping action and easy controls. Heads up, might be a bit heavy. BGM's from DOVA and Maou-Dama. Show the creator some love with likes! Beware of a known flag bug, but don't stress minor issues. Dive in and have fun with everyone!
#07 
A Cute Cat on a Cart and Falling Petals: An Autumn-Themed Game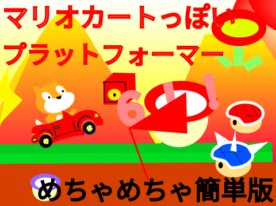 sgihyt781's Scratch Game
The cat riding the cart is so cute! In this stage, petals fall down, making it feel like an autumn-themed game. It was fun to use the red mushrooms to gain speed and progress in the game. However, there are poisonous mushrooms scattered around. Touching a poisonous mushroom sends you back to the starting point. Figuring out how to avoid the poisonous mushrooms and overcome the challenges was enjoyable too!
#08 
Mushroom Stage Madness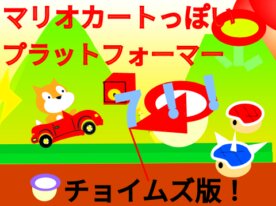 sgihyt781's Scratch Game
In this stage, you'll encounter both red and poisonous mushrooms. Touching a red mushroom will give you a speed boost, but touching a poisonous one will… well, you'll have to play the game to find out! The controls for this series are simple and easy to learn. This particular stage is filled with an abundance of mushrooms, making it a true Mushroom Stage! The key is to utilize the speed boosts from the red mushrooms to propel yourself forward. Can you dodge without the boost? That's the challenge! Even beginners should be able to enjoy this stage, so give it a try.
#09 
Exciting Mushroom Boosts and Dodging Soccer Balls

sgihyt781's Scratch Game
In this game, you progress by dodging numerous soccer balls flying your way. There are several mushrooms scattered around, and touching these mushrooms will give you a boost of speed. I believe that carefully timing your contact with the mushrooms will help you advance step by step. If you fall into a pit, or touch a turtle or a ball, you'll be sent back to the beginning of that screen, but you can restart immediately without any loss. This is extremely helpful for someone as impatient as me.
#10 
Uplifting Music and Easy Controls Make for a Fun Experience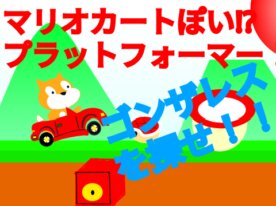 sgihyt781's Scratch Game
The music is bright and upbeat, which helps elevate my mood while playing. The controls are simple: just move forward and jump. This makes it easy for even beginners to start playing right away. As you progress, there are pitfalls, and falling into them means starting over from the beginning. However, since you're quickly returned to the starting screen after a failure, the game maintains a good pace. It's not an auto-scrolling game, so you can advance at your own pace and jump when you're ready, which I think allows for a less stressful experience.
#11 
sgihyt781's Scratch Game
#12 
The Three Key Tips for Success

sgihyt781's Scratch Game
Jump over and avoid the red turtles
If you hit one, you'll have to start all over again. There are also pitfalls, so make sure to jump at the right timing!
Don't go too far back or too far forward
Going too far in either direction will result in failure.
Pass the white bar to update the checkpoint
Once you pass the white bar, you can restart from there even if you fail. Aim to update the checkpoint and do your best!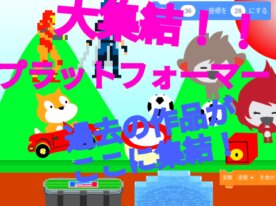 sgihyt781's Scratch Game
In this game, you control a cat riding a cart, aiming to reach the goal. When your cat touches a mushroom, it accelerates. Make good use of the mushrooms to help you reach the goal. This time, some famous characters will make an appearance, which is one of the game's charms! To find out which characters will show up, try playing the game yourself. The series has various stages, but overall, it doesn't feel too difficult, so it's perfect for first-time players as well.
#14 
sgihyt781's Scratch Game
#15 
Cheerful Music and Adorable Gameplay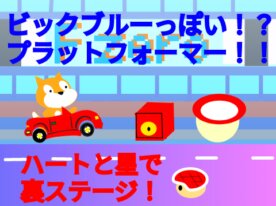 sgihyt781's Scratch Game
The music is uplifting and brightens your mood. The controls are just as usual, and the simplicity makes it easy to learn. In this stage, roads appear in various positions. These roads are incredibly cute, providing a soothing experience as you progress. Mushrooms appear, and touching them increases your speed. The speed is quite surprising. Be sure to enjoy the game while paying attention to this thrilling pace.
else mario kart
The 3 most popular else mario kart games in the Scratch community.
#01 
Yoshirina's Scratch Game
#02 
atomicmagicnumber's Scratch Game
#03 
Experience Mario Kart on Your Computer or Smartphone

atomicmagicnumber's Scratch Game
You can now play Mario games on your computer or smartphone. At the start of the game, you can choose whether to control with a tap or mouse pointer or by using the keyboard. The view is from your own perspective, so you can feel like you're actually riding in a kart. The controls are simple: just move the kart with your mouse. This means that even people who aren't familiar with using computers can quickly start the game and have fun. The characters that appear are all familiar faces, and each character operates their own kart. Pay attention to what each character is doing and give this game a try.