kimetsu
The 15 most popular kimetsu games in the Scratch community.
#01 
TheJajaGuy's Scratch Game
#02 
Calling All Demon Slayer Fans and Newcomers Alike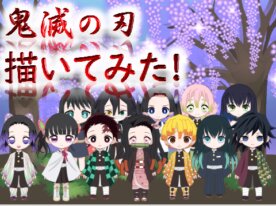 nekopyon's Scratch Game
If you're a fan of Demon Slayer, or even if you've never seen it, I highly recommend you check it out! This isn't so much a game as it is an opportunity to see the characters. Each character is incredibly adorable, and you can instantly recognize them. Seeing your favorite characters will surely boost your excitement. Please take a look at these characters and let them soothe you.
#03 
Unmissable for Demon Slayer Fans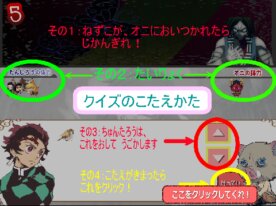 grin2525's Scratch Game
If you've been watching Demon Slayer, you'll find this irresistible. The visuals are incredibly beautiful and moving! Before the quiz begins, there is a story, but for those who want to skip it, there's a "skip" feature, allowing you to just take the quiz. All the quizzes are about Demon Slayer, and fans of the series might find them easy to answer. I was able to enjoy it from beginning to end.
#04 
Grow Your Character through Activities and Evolve into Demon Slayer Characters or Originals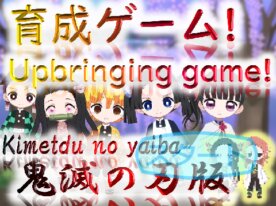 nekopyon's Scratch Game
By giving characters rice balls and tea, handing them a brush to let them draw, or taking them for walks, you can help your character grow. After they have grown through three stages, they will evolve into characters from Demon Slayer or original characters. It seems that the combination of items given will determine which character they will grow into. Blue represents male characters, while red represents female characters. With a total of 24 possible character evolutions, try various combinations and aim to complete the collection. Demon Slayer fans might keep trying until they get their favorite character.
#05 
Give This Game a Try if You Love Demon Slayer

s_homaY's Scratch Game
If you're a fan of Demon Slayer, you should definitely give this game a try. In the game, you control the protagonist, Tanjiro, and navigate through various pitfalls and obstacles on your way to the goal. The game's music features tracks from Demon Slayer, and the stages are designed to capture the atmosphere of the series. As a Demon Slayer fan, I found myself eagerly progressing through the game. The stages aren't extremely difficult, so I think even beginners can enjoy playing. I had a great time playing from start to finish.
#06 
HARUKICHI0129's Scratch Game
#07 
Demons in the Darkness: A Game Review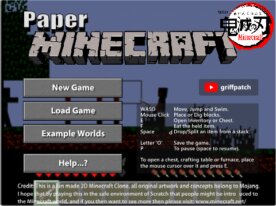 modsmaker's Scratch Game
When it comes to Demon Slayer, the word "demon" comes to mind. In this game, as you progress, demons appear on the dark path. Attacking demons in the dark is ineffective. To reach the goal, you must figure out the demons' weakness. The controls are simple, allowing for smooth gameplay. While the background music is nothing special, you can enjoy listening to the sounds of your character's footsteps, jumps, and attacks. As you advance through the stages, various elements appear, making you wonder, "What will come next?" and allowing you to proceed with excitement. I am looking forward to the next installment in the series.
#08 
mannto's Scratch Game
#09 
TheJajaGuy's Scratch Game
#10 
PlsGimmeToesSprites's Scratch Game
#11 
HARUKICHI0129's Scratch Game
#12 
HARUKICHI0129's Scratch Game
#13 
nekopyon's Scratch Game