Animal Crossing Forest
"Animal Crossing" is, like, a super popular game from Nintendo, right? But, recreating it in Scratch can be pretty tough. Sure, if you work hard, you can make adorable graphics, detailed dialogue and emotes, turnip trading, bug catching, fishing, and, like, a bunch of other stuff. But, trying to implement it all can get way too intense. So, when making an Animal Crossing game in Scratch, it's important to clearly decide what you're not going to include, while still maintaining that "Animal Crossing" vibe. What makes Animal Crossing fun is different for everyone, but some of the typical things might be: Building your own island, Making friends with the animals living there, Enjoying seasonal events, Building your own house, Creating furniture, Designing your garden, And so on. Let's think about how we can capture the charm of Animal Crossing in Scratch, while looking at the works of other Scratchers together!
#01 
Animal Crossing- Scratch!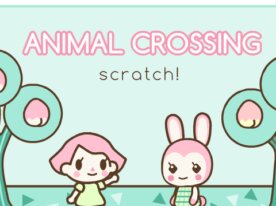 ipzy's Scratch Game
This is a 2D scrolling recreation of the Animal Crossing.
The first islander you meet is Bunny. She looks like Luna, but is an original character.
Walking up the street, you'll find the Able Sisters store!
There are clothes for sale!  Ah, but there is no big sister. Only Kinuyo was there. It's totally fine, though.
I could buy clothes and change.
It's a great scratch game.
#02 
Create Your Own Unique Character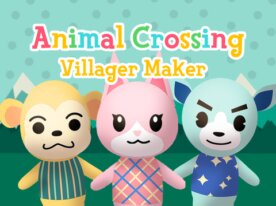 ipzy's Scratch Game
You can create a character with your favorite colors and features. Not only can you choose the ears, eyes, clothing patterns, and body patterns, but you can also adjust the width of the eyes. I was impressed by the rare option to change eye width. Additionally, you can even choose different animals like raccoons and cats, allowing you to create an even more original character. With such a wide variety, I highly recommend giving it a try if you want to create your own original character.
#03 
Soothing and Educational: Animal Crossing with Hamster Characters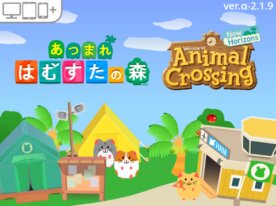 yusuke2006's Scratch Game
I felt incredibly soothed! I recreated Animal Crossing with hamster characters. This game allows you to choose between an English version and a Japanese version. In the Japanese version, all the words are in Japanese, so you can enjoy it while looking at the words. Even if you don't understand English, you can learn words and phrases through this game, making it not only enjoyable but also educational. It's great to be able to learn English while being soothed, isn't it?
#04 
Customize Your Dream Home by Collecting Stars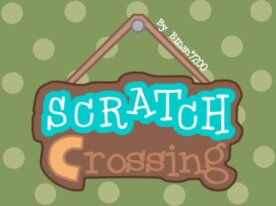 bman7200's Scratch Game
The game starts with a choice between a boy and a girl character. Below the characters, there is an input field where you can type either "girl" or "boy" to make your selection. Once you choose your character, the game begins.
The objective of the game is to collect stars and use them to purchase furniture and other items for your home. You can earn stars by playing mini-games in the arcade. After accumulating enough stars, you can visit a shop called Nook's to buy furniture and decorate your room.
The more mini-games you play, the more stars you can collect, adding to the fun and excitement of the game. As you acquire more furniture, the enjoyment of customizing your room grows as well. Give it a try!
#05 
A Popular Game Animal Crossing Recreated for PC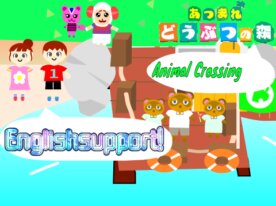 wanko777's Scratch Game
I can't believe there's a PC game that recreates the popular "Animal Crossing"! This game offers both Japanese and English versions. With the Japanese version, all the words are in Japanese, making it easy to understand the content and quickly grasp what needs to be done. Although I couldn't read English in the English version, by looking up unfamiliar words, I gradually began to understand what was being said and eventually became able to comprehend the English language.
#06 
ScratchStang's Scratch Game
#08 
Haruppu's Scratch Game