gapporisushi
The 3 most popular rapid fire games in the Scratch community.
#01 
A Simple Guide to Playing the Sushi Game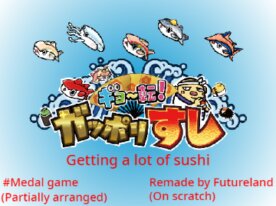 Futureland's Scratch Game
Here's an easy-to-follow guide for playing the sushi game! I'll write a more detailed article next time. First, select Japanese as your language. Then, sushi toppings will appear one after another. If it's your first time playing, click on the "+2 pieces" button in the top left corner. Choose two sushi topping names – it doesn't matter which ones, and they can even be the same. Press the spacebar as many times as you like, but for now, press it about three times. Click "Back" and you'll see the "Start" button that wasn't there before – click on it! From there, the game will progress automatically, so just sit back and watch. After one round, you'll understand how it works and might even say, "Ah, I see! It's surprisingly deep!"
#02 
Adorable and Soothing Sushi - A Fun Game to Enjoy

yosiotouzyou2's Scratch Game
Sushi is not only cute and calming, but watching it rotate is satisfying enough! On top of that, if you win the sushi you've chosen in a lottery, you'll earn points too! The more you play, the higher the score you can aim for. It seems many people are playing this game, and everyone's points are high! That's why I became even more excited and eager to enter the rankings.