Rhythm Game
The appeal of a rhythm game lies in its unique combination of music and gameplay, providing a form of entertainment that engages both the ears and the hands. Players aim to score points or challenge themselves with more complex songs by pressing buttons in time with the music. The effects and animations on screen that match the rhythm and style of the music add to the overall experience. To express these qualities in Scratch, it is necessary to create a game that combines music and button inputs. Specifically, players can be prompted to press buttons in response to notes that appear on screen, timed to match the rhythm of the music. Adding effects and animations that match the style and rhythm of the music can further enhance the gameplay experience. Furthermore, Scratch has a feature that allows users to play back sound effects and music. By creating original music and sound effects, creators can make their rhythm game even more unique and engaging. Let's explore how to express these qualities in Scratch together!
#01 
Rhythm Game with Falling Notes from Three Lanes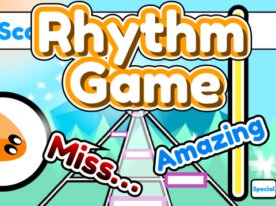 omowaka's Scratch Game
This is a rhythm game where you hit falling notes from three lanes in time with the music. The featured songs include:
Carrying You (Castle in the Sky Laputa)
Unlimited by -XAF-
Starship by -XAF-
Water by -XAF-
The Kawaii EDM tracks "Unlimited" and "Starship", as well as the city pop-inspired "Water", create an uplifting and pleasant atmosphere while playing! Aim for high scores by tripling the points of notes cleared through special moves and combos.
About the Special Move System:
If you hit the notes with good timing, the gauge will fill up, and you'll be able to use special moves. You can choose from four types in the menu, but the square-shaped "Beginning of Flames" seemed to be the easiest to use.
#02 
A Fun and Simple Rhythm Game Reminiscent of the Old Rhythm Heaven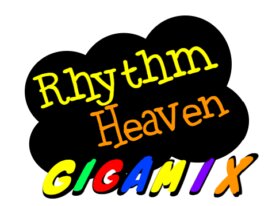 jaehyun413's Scratch Game
This rhythm game is simple and enjoyable, reminiscent of the old "Rhythm Heaven". You can freely select from six stages. The controls are very simple; just press the space bar in time with the rhythm. The character animations are incredibly cute, but the rhythm can be quite challenging. Sudden note changes like "backbeats" and "triplets" provide a real sense of accomplishment. Personally, I found the stages with the most rhythm variations to be the most interesting: Air Rally, The Clappy Trio, and Fork Lifter. Give it a try!
#03 
Enjoy Various Rhythms with 4 Tracks and 3-Color Notes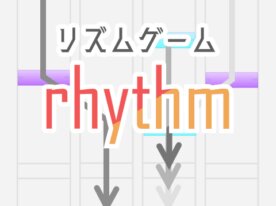 1STEP621's Scratch Game
Song List:
@hanngou-light's "Naniwa Android"
@hanngou-light's "Jiame no Hoshi"
Maou Damashii's "Moon and Wolf"
Maou Damashii's "Halcyon"
Press the 3-color notes falling in the 4 lanes rhythmically. The songs include 2 Vocaloid tracks and 2 tracks from Maou Damashii, offering a variety of styles from aesthetic rock to cute VocaRock, making it enjoyable just to listen to the music.
As for gameplay, the sudden purple notes shifting to the left or right lanes can be quite challenging! Even if you miss multiple times, the game won't end in the middle, so it might be a viable strategy to ignore the purple notes and only aim for the straight-falling light blue notes and the double-scoring orange notes.
The pattern of falling notes is the same, so as you repeat and memorize the patterns, you'll gradually feel your skills improving, which is an enjoyable aspect of the game.
#04 
Enjoy a Variety of Music in this Engaging Game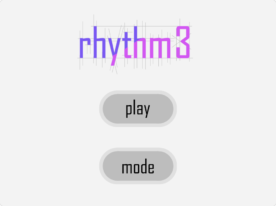 1STEP621's Scratch Game
I believe you can enjoy this game for a relatively long time since it features multiple music tracks. The gameplay is simple; all you need to do is hit the keys in sync with the colored lines that flow from the top of the screen. As a timing-based game, it helps improve your focus while you have fun. Additionally, the game becomes even more entertaining as the colored lines may change positions or grant double points, making it an exciting experience.
#05 
jay-son's Scratch Game
#06 
A Space-Themed Rhythm Game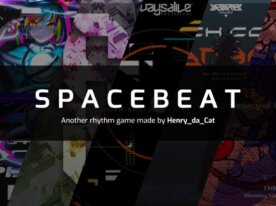 Henry_da_Cat's Scratch Game
This is a rhythm game where you hit notes, and it has a wonderful world view. I love the spacey feeling of playing notes in the universe. You set up four fingers to hit the notes vigorously, but sometimes you lose track of which finger is which, like thinking you're moving your index finger but it's actually your middle finger. Is this the power of the cosmos? (Not really). The game can handle multiple key presses at once, and it feels great when you can hit them all together. It's a fun game in many ways, offering a sense of exhilaration and speed.
#07 
Mylifeisnear's Scratch Game
#08 
Googamp's Scratch Game
#09 
A Game with Untapped Potential Waiting for a Legendary Remix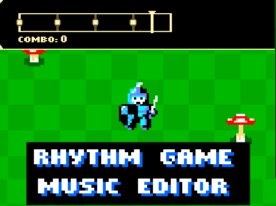 Hobson-TV's Scratch Game
The game still lacks in gameplay. However, I can sense the potential for it to become a legendary masterpiece if someone remixes it and adds elements like story or battles. To play, you simply hit the Z key in sync with the bar displayed in the top-left corner of the screen. If you time it well, your combo count will increase. Some people have even achieved 110 combos.
Afterward, a text prompt will appear, letting you know that you can also hit the arrow keys instead of the Z key. Give it a try! If you succeed, you'll enter a stage where you input your name. Move to the desired alphabet letters in rhythm and confirm your choice with the Z key. Can you do it?!
Following that, you'll enter a bonus stage-like experience where you can actually create the rhythm yourself.
#10 
DANISON's Scratch Game
#11 
BetterCharlieNetwork's Scratch Game
#12 
-TonEX-'s Scratch Game
#13 
Swing Your Saber to Cool and Chill Music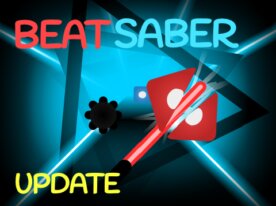 ScratchTheory-'s Scratch Game
This is a game where you swing your saber in sync with cool and chill music. Blue and red targets will fly toward you from the front, so control your saber with your mouse to hit them. However, make sure to match the color of your saber accordingly, or you'll lose life. This switching can be quite challenging! Occasionally, pitch-black spikes will fly towards you, but do not hit them with your saber. Doing so will deplete your life.
#14 
Electric Frustration Stick Meets Upbeat Music: An Auto-scrolling Arrow Game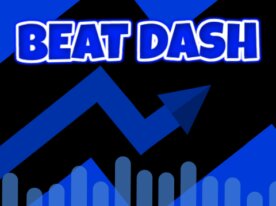 O2009H's Scratch Game
This game is reminiscent of the electric frustration stick from old variety shows, combined with lively music as you guide an auto-scrolling arrow to avoid walls. Just a few seconds after starting, the arrow begins to fall due to inertia, so you must use the spacebar or mouse click to make it rise and dodge the walls. The stages increase in difficulty in the order of Speed, Energy, and Giant. The scrolling speed is quite fast, which may cause you to panic. Although fine adjustments can be quite challenging, the game is addicting, making you forget to blink as you become absorbed in the gameplay.
#15 
Challenging the Beat Game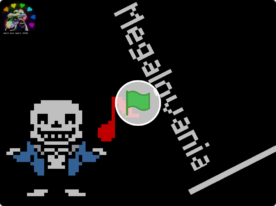 apple2-2's Scratch Game
So there's this super popular game "Undertale", right? And in its hardest route called the Genocide Route, there's this boss battle with a song named "Megalovania". There's this beat game where you hit notes dropping to the tune of this song. As you hit the notes in a row, it shows your combo count! Try to see how high you can combo. I've seen comments about people getting over 500 combos, which is insane. I struggled just to get 10 combos lol. I feel like Sans is laughing at me.
#16 
【1】Authentic music game||本格的音ゲー V3.1
#17 
【2】Authentic music game
#18 
horiir22's Scratch Game
how to make music game
The 1 most popular how to make music game games in the Scratch community.
#01 
Remix project to create a sound game
training
The 13 most popular training games in the Scratch community.
#01 
Ordeal of the Sound Game 1 《1》 ordeal
#02 
Sound Game 1 Ordeal + α
#04 
Sound Game: The Ordeal of the Counsellor
#05 
Sound game 4 《4》 ordeal
#06 
Sound game: The Ordeal of the Corporal.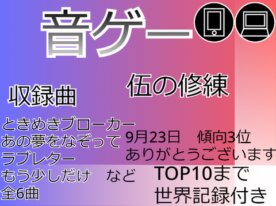 yosiotouzyou2's Scratch Game
#07 
Sound Game Riku Ordeal
#08 
Sound Game The Ordeal of URUSHI 《7》.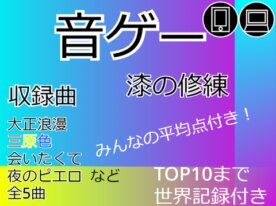 yosiotouzyou2's Scratch Game
#09 
Sound Game: The Ordeal of 8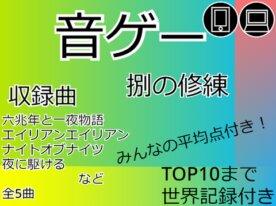 yosiotouzyou2's Scratch Game
Track List
Night of Nights by BEAT MARIO

(in Japanese)

Gentle Comet by YOASOBI
Alien Alien by Naytan Seijin
Running Into The Night by YOASOBI
Six Trillion Years and One Thousand and One Hundred
Six Trillion Years and One Night Story by KEMU
#11 
Sound game Pick up 《10》 ordeal
#12 
Sound game Pick up 1 《11》 ordeal
#13 
Sound game Picking up the pieces of training ver2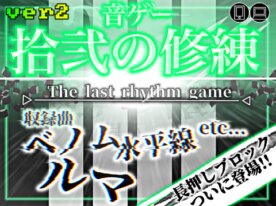 yosiotouzyou2's Scratch Game
kiwami
The 1 most popular kiwami games in the Scratch community.

More kiwami projects are coming soon!
We have plan to add 3 more Scratch projects of the kiwami.
#01 
norumaku's Scratch Game New