Shogi ( Japanese Chess ) Game
The appeal of shogi lies in its strategic elements, complex rules, and rich variety of tactics. Firstly, shogi requires strong strategic thinking skills, as winning often requires encircling the opponent's pieces or dismantling their defenses through effective tactics. Players must use careful placement of their own pieces and move strategically to attack or defend as needed, leading to a dynamic and engaging experience. Secondly, shogi has a complex set of rules that are part of its appeal. From the types of pieces and how they move, to the methods of attacking and capturing, shogi requires careful study and practice to fully understand. The interdependence of these rules adds to the game's depth, making it an engaging challenge for both beginners and experienced players alike. Finally, the rich variety of tactics available in shogi is another aspect of its appeal. Each game presents a unique challenge, with multiple solutions to every problem. Skilled players must read their opponents, adapt their strategies, and stay focused throughout the game to achieve victory. Together, these elements make shogi an engaging and challenging game that appeals to a wide variety of players. Its strategic nature, complex rules, and rich variety of tactics all contribute to its appeal, making shogi a beloved and rewarding game for those who take the time to learn and master it.
#01 
A Great Solution for Shogi Beginners and Those Wanting to Play at Home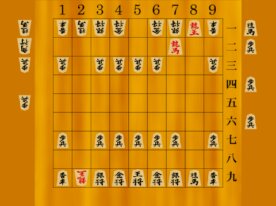 _ryosuke_'s Scratch Game
If you are a beginner at shogi or simply want to play shogi at home without owning a physical board, this is a great solution for you! I am a beginner at shogi myself, and this game has helped me learn the movements of the pieces. It's nice to be able to play at my own pace and think carefully about each move.
Furthermore, I was happy to find this game available on the computer because I wanted a shogi set, but I didn't have any more space at home for additional items.
#02 
A Fun and Engaging Introduction to Shogi for Kids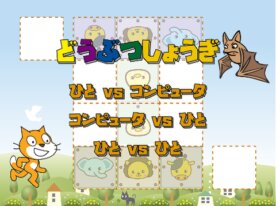 eiju's Scratch Game
I thought this would be enjoyable for children who are new to shogi. By moving cute animal pieces like shogi pieces, they can naturally learn the rules and how to move the pieces as they play. With fewer squares on the board, the game ends quickly, making each move incredibly important! Knowing whether they will win or lose encourages them to think more carefully about their moves.
#03 
sironn's Scratch Game
#04 
horilike731's Scratch Game